I lay in bed this morning and wondered whether I should clean the house or head out and pick up the Sleek Bad Girl palette which was released today. Shopping it was. Didn't want to take my chances by trying to get it tomorrow. My instincts were correct. I picked up the last 2 palettes on the shelf. There was still a full stack of Good Girl palettes. I wasn't overly interested in the Good Girl palette. A couple of the shades were lovely but who really needs 12 pink eyeshadows? They might be great as a mini blush palette but I've got an abundance of blushes and am not in the market for any more at the moment.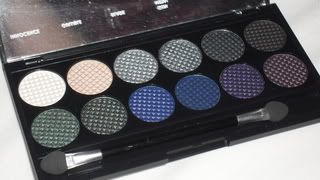 Sleek Bad Girl palette - will post swatches later tonight.
Popped into Primark for some trusty disposble fashion and didn't find much. They had some nice faux fur gilets in and a few cute blazers but I look awful in anything faux fur and I have more blazers than any one person needs in their lifetime. I did find this keyring and picked up two. I tend to pick up doubles of things I really like just in case I want to give it away or give it to someone as a gift.
Anyway, a little preview of my 50 Followers Giveaway prizes.
Barry M Dusky Mauve, Barry M Nail Effects, Sleek Bad Girl palette & a pretty darn cute keychain. Baby cat not included.
Mimi Update: Much better now, Reggie has settled in more but still tends to run away when she comes near him! Umm...Reggie, she's the size of your water dish? He's just used to being the baby and we understand that. They've had their little scraps here and there but generally get on just fine.
They're eating together!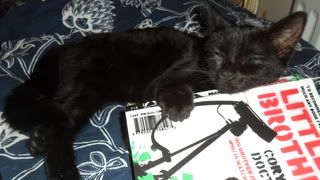 We have to give up on reading books or magazines with the cats around. They like to lay on them before you get a chance to turn the page.
She knows where we keep the food!
PS: P5P is still on - I cleared the Bad Girl palette release and it doesn't count! Oh I'm a cheeky one.
PPS: Getting insanely frustrated that I can't open or use my bottles of Dusky Mauve & Nail Effects! Since I bought them whilst on P5P, I'm not allowed to.