I've been on the hunt for an inexpensive eye makeup remover that doesn't sting my eyes or give that uncomfortable cloudy feeling that needs a good rinse and several hundred blinks to get rid of. I ventured into Simple products, great for the no stinging but I still got cloudy peepers. Until I found these, I stuck with good old fashioned baby wipes but didn't like that sometimes, when I'd been particularly heavy handed with the eyeliner I'd have to scrub and it would mean sore, raw patches in the corners of my eyes. Not ideal when you're trying (ok, half trying) to look fresh faced and awake for work, especially as concealer refused to stay on!
I nipped into Tescos one evening to buy some broccoli *cough doublechocolatefudgeicecream* and saw a load of Johnson's skincare products were on offer at 2 for £4 so I picked up a tub of these and some face wash for the fella (he's got very picky skin, but I like to use him to test products) and whilst the face wash only mildly impressed (great for everyday, mild exfoliation for combo/dry skin - does nothing if you've got problem or oily skin) these pads were an absolute gem.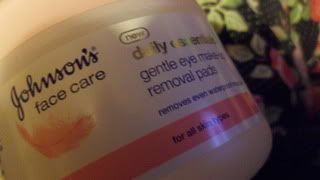 You get 30 pads in a tub and one is easily enough to remove even the heaviest makeup on both eyes, though it does say to use one for each, I just turn it over. I gently swipe downwards, open my eyes and gently swipe side to side and it loosens and removes all my eye makeup. It does require a quick going over with a baby wipe or a quick rinse as it does smudge very heavy product but it gets it all off with no irritation whatsoever.
The fragrance is minimal and is pleasant and while the moisture it gives the eyes is in my opinion insufficient, it's nice not to feel like your lashline is sticking to the hood of your eye halfway through your cleansing routine. Absolutely keep using an eye cream. I've noticed my lashes are shinier (?) too.
I highly recommend these pads and I've already repurchased while they're still on offer. I've tried a dozen eye makeup removers from Lancome to Superdrug's own brand and this kicks them all off my bathroom shelf.