For Christmas 2010, Lush have brought out this beautifully scented, adorable little bubble bar. I couldn't appreciate how lovely and spicy it smelled until I got home. It takes roughly 2 and a half minutes for scent fatigue to kick in when I'm in Lush. 1 1/2 minutes spent chatting to the sales assistants when I walk in leaves me a minute to sniff things until it all just meshes into that lovely aroma you smell walking past a Lush store.
This is Gingerbread House bubble bar. So cute! Who wouldn't want this in their stocking?
Lush say:
"A Bath You Won't ReGretel
Christmas is a confectioner's dream, especially with our Gingerbread House Bubble Bar. It is sweetly spiced like fresh gingerbread and there's no wicked witch in sight, nor any sign of Hansel or Gretel eating her out of house and home.
Ginger
Powdered ginger is the dried, ground rhizome. As an ingredient, it stimulates and warms, and adds a mild cleansing action to the bath.
Warming Ginger
Its fragrance is a combination of distilled citrus oils, hints of blackcurrant and a spicy shot of ginger. Powdered ginger will warm your entire body as you soak, so there's no chance of Jack getting his frosty digits on you for long!
Buchu
Buchu oil adds fruity blackcurrant notes to a perfume blend, adding to the refreshingly sweet smell of the Bubble Bar."
The bubble bar itself is so cute it breaks your heart to crumble it up and see it froth into a mountain of bubbles and steam. Once you get in, the heartbreak subsides and you're left relaxing in the tub surrounded by spicy, earthy, fruity goodness. I felt relaxed and refreshed when I got out but best of all, smelled divine. This definitely prepares you for Christmas! I plan on stocking up on a few for myself and a few as stocking fillers.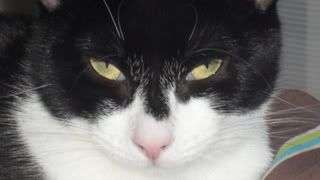 Reggie is annoyed I didn't let him in the bathroom. He loves being curled up on the bath mat when I'm having a Lush bath!
Next up: Winter Bath!