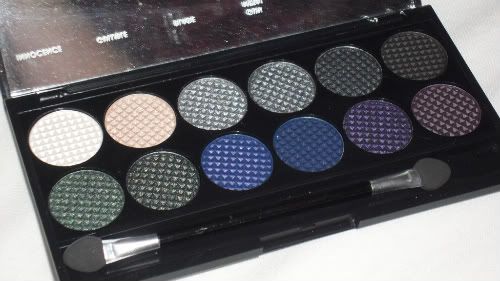 Sleek MakeUp Bad Girl Palette
L-R: Innocence, Gullible, Blade, Gun Metal, Underground, Noir
Intoxicated, Envy, Obnoxious, Abyss, Twilight, Rebel
Look using Innocence, Gullible and Abyss.
Excuse the transfer under my eye. There's a lack of concealer and primer here!
I know I only purchased this today but I feel that because I have a few other Sleek palettes, I'd be alright giving a fair review of this product as it is mostly based on the colours.
A bit about Sleek palettes: Priced at £5.99 and including 12 mineral based eyeshadows, Sleek palettes are not only fabulous quality but fantastic value for money at a pinch under 50p a shadow. The eyeshadows tend to be shimmery but a few palettes include matte and satin finishes as well. Pigmentation is phenomenal and in my opinion rivals Shu Uemura's (and we all know I'm a Shu Superfan) - and that's saying something. Application is buttery soft, the shadows are easily blendable and wear well. The only downside is I find I get quite a lot of fallout with these shadows but it's nothing that would stop me from buying them.
The Sleek Bad Girl palette is one half of their latest offering. The other half is the Sleek Good Girl palette which I feel is not something too many people would be interested in unless they're Sleek collectors or plan on using it as a blush palette as it's full of gorgeous pinks and corals. This time, the shades have names! Unfortunately the names are not printed anywhere on the palette except for the plastic protective insert which I usually throw away but won't this time.
I've got to say that the Sleek Bad Girl palette is my favourite so far with the Graphite palette coming in a very close second. It holds a selection of wearable smokey colours that suit any eye colour or skintone. I'm a sucker for a good purple shadow and the purples and blues are my favourite shades in the Bad Girl palette. Check out Twilight! Gorgeous.
Did you manage to get your beautiful mitts on this today? Do you plan on getting it?