Popped into Lush today to buy a few things to um...test...to make sure I knew what I was getting as gifts. I picked up Winter Bath ballistic and Gingerbread house bubble bar. Also scored a free Calavera ballistic as they were a tiny bit chipped/broken. I can't for the life of me remember the sale assistant's name, but thank you Lush chick in Croydon! It's a nice citrusy one so I'll give it to John to try out and have him report back. He loves those kinds of scents.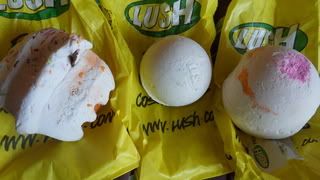 Have you finished your Christmas shopping? We're all done now with the exception of a few last minute things from Lush. Don't want anything to dry out or turn funny because they're sitting around for ages.
Excited for the holidays!