I have extensive experience with Lush's bath bombs though I do find myself favouring a few more than others: hello Butterball & Vanilla Fountain. This will be one of those I favour from now on.
What Lush say about Blackberry Bath Bomb:
"Bouncing blackberry.
With bergamot, frankincense and berries for uplifting, grounding and fruity feelings. When you're feeling off colour and out of sorts, drop this Ballistic of purply goodness into the bath.
Fruity and comforting.
The frisky scent of blackcurrants will tug at the corners of your mouth, pulling them towards your ears. Bergamot relieves tension and frankincense will wrap itself around you like a cosy blanket. All your cares will dissolve into a warming purple haze.
Bergamot oil
Bergamot oil is used to lift the spirits when you feel blue. "
I wasn't feeling particularly blue this evening but I certainly needed a little pick me up after battling with the weather of late. I popped this into the bath and watched while it fizzed and fizzed into a purple swirl of fizzy deliciousness. Did I mention it fizzes? I got in, slid down and savoured the silky smooth feeling of the water (though Vanilla Fountain is my fave for this! Feels like you're bathing in custard) then realised how gorgeous this smelled! You can absolutely pick up the bergamot and it really does have a calming effect. I soaked for about 30 minutes then topped up with hot water and did all the essential bits like...erm...washing, and soaked for another 15 mins. I got out and my legs went all jelly-like - it was brilliant! I spent the next 4 hours huddled up in a fleecy blanket watching Disney films.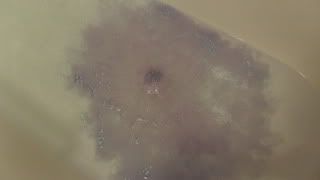 And if the purple blanket isn't enough to make you smile: Boom Boom!
Keep one handy at all times - you'll need it in times of stress.
I'll also add that Reggie was scratching at the bathroom door and if my snobby little kitten-cat loves this - you will too!