You do a little bit of Autumn cleaning....and you find a forgotten Stila lipstick in a handbag, a Rimmel nail polish under the bed and a load of earrings you'd thought you'd lost so had already thrown away the other half of the pair. Actually, the kitten found most of the earrings...she thought they were new toys. Toys they were not.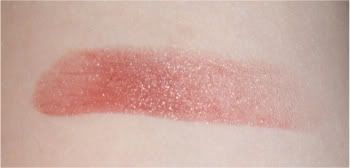 Stila Shine Lip Color in Anna
A Project 5 Pan update - I finished my Armani powder foundation a while ago and have just knocked out my Lush lip balm - a sure sign of how parched my lips are at the moment. I'm finding myself applying lip balm every 5 minutes. I have UDPP, the Biotherm eyeshadow duo and my Revlon Colorstay left to go! I've been using the Colorstay everyday since P5P started and because my skin seems to be behaving itself at the moment, I'm using less of it which is slightly annoying. I'm aware of how stupid that sounds.
I'd also like to add that I used up 3 mascaras this week! I decided not to include mascaras in P5P as they're so easy to use up. I finished off my Diorshow, Rimmel The Max Volume Flash and a mini Benefit Bad Gal Lash. Very proud.
Many will know that the amount of UDPP wasted is just...unasseptable (watched Supernanny today) so I'll be posting about how you can get the rest of the product out.
Update on Mimi: She's settling in very well and is super affectionate. Having some trouble with Reggie accepting the fact that he's not the baby anymore but this happened today: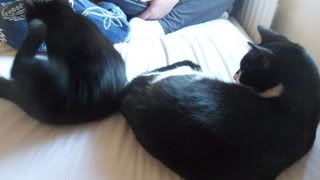 And I consider that a bloody triumph! This is what it must feel like to see your child walk for the first time.
Miss Mariah
Hope you've all had a fabulous weekend! Get up to much? Do share.
xx