Last night, John ordered a bunch of Mario Badescu products from beautybay.com for me so I'll be finishing off my Lush skincare soon. I've been using these products for about a year and a half now and I've been really pleased with how well they've worked for me, but think it's time for a change! My skin seems to have gotten used to the products so fingers crossed, Mario will pull through.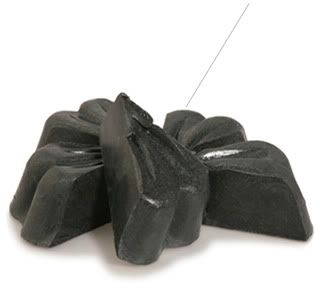 First up is my cleanser. I use Fresh Farmacy both morning and night and find it does an excellent job of calming any redness in my skin and drying up breakouts. If you have mild to moderate acne or rosacea, I'd say give this product a try and see how it goes. It's inexpensive and Lush are excellent for giving samples. It doesn't smell amazing, but isn't unpleasant. It can leave the skin feeling tight but a dab of moisturizer fixes that problem easily. If you like a squeaky clean feel when you wash your face, Fresh Farmacy will do that. Another Lush cleanser I can recommend for oily skin is CoalFace. My boyfriend uses it daily and it has helped his skin immensely. Another inexpensive item we both use is the Body Shop's Facial Buffer to gently exfoliate each day which means I don't need to use a separate exfoliator!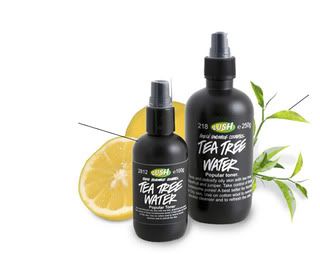 Tea Tree Water is essentially a toner. It's very gentle, it doesn't sting when you apply it like many alcohol based toners can be and it cleans any cleanser or makeup residue from your face. Again, I use this morning and night and it's great for picking up any makeup your makeup remover and/or cleanser may have missed. You'd be surprised!
Grease Lightning is a blemish treatment but I use it as if it were a serum - especially when I'm breaking out. It does a wonderful job of gently calming and healing any spots you might have. I had a monster coming up just under my nose (ouch) on Tuesday. Today, it's gone. There's the slightest bump when I run my finger over it but it's no longer painful or red.
I use my
Shu Uemura Cleansing Beauty Oil Premium A/o to remove my makeup and Cetaphil moisturizer and find they work well in harmony with each of the Lush products. It's a great routine and it has worked for me but like I said; time for a change! I've tried other products in between and found some winners (Shu oil!) but I've never changed my entire routine like this.
I'll be keeping a diary and photographing my progress with the Mario Badescu products. To some, they're quite an investment (myself included) so it's always nice to see how well they work (or not) before purchasing.
Are there any products you use that you wouldn't change for the world? I thought Fresh Farmacy was mine, but it turns out...it's my Shu oil!
Photo credits: Lush.co.uk