I'm slowly working my way through my stash of Lush's Christmas goodies. I managed to fit in
one
bath last week and the weekend has been bath-free! I've showered...of course.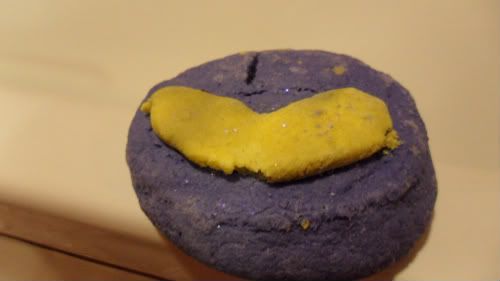 What Lush say:
"The Night Before
Escape from seasonal stresses with a soothing, deep blue, floral bubble bath. Irish moss powder forms a soothing, softening gel in the beautifully blue water; the floral and sensual scents of jasmine and ylang ylang are relaxing, and the oils are good for caring for sensitive skins.
Relaxing Blue Bubble Bar
On the night before Christmas, all through your house, if everybody is stirring and making you grouse, run yourself a Christmas Eve bubble bath and watch your troubles to float away.
Irish Moss Powder
When it comes into contact with the hot bath water, Irish moss powder forms a gel-like solution in the water, which is very soothing."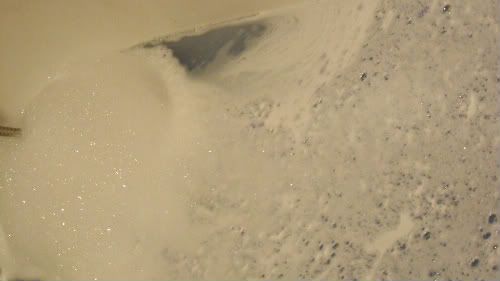 We all know I fawn all over floral scents and this bubble bar made me react no differently. It's smooth, silky and beautifully fragranced. Not overpowering, but not subtle in any way; the Christmas Eve bubble bar doesn't offer the traditional scents of Christmas with Ylang Ylang, Jasmine and Gardenia; but more the feeling of Christmas Eve - when you want to be relaxed, pampered and prepared for the next day's festivities. When crumbled under running water, you are greeted with a mass of bubbles and relaxing (I think anyway...) murky, deep blue water. I know some won't like a cold bathroom, but I quite like it when I've got the window open a tad and the hot bath steams in the cold air. The water felt smooth as did my skin once I'd pulled myself out of the bath (after several hot water top ups I might add) and I felt loosened up and ready to finish chilling out in bed with a copy of War and Peace *cough* heat magazine.
Christmas Eve bubble bar is a welcome break from Lush's 2010 Christmas goodies, most of which have been based around Christmas treats (food) and/or sickly sweet (which I also love!) - and one I'm sure will return again next year! This was one of my favourites from last year and I'm very happy it's back. Either way, I'll be picking up a couple and locking them up in a baggie for later next year.
I'm quite aware that my reviews have been heavily Lush based! If anyone has any review requests of products they've seen in my hauls or (sort of)
collection post
, please feel free to email me, leave a comment, Tweet me etc. I'm always very pleased to hear from people! It doesn't have to be a review request either!
I hope you're all keeping well and enjoying the run up to Christmas. What are your plans this year? I'm heading off to spend a week with John's mum and brother. Lots of fluffy blankets, pillows, food, fire and TV!