Shu Uemura Skin Purifier Cleansing Beauty Oil Premium A/O Advanced Formula
What it claims to be/do:
"A potent antioxidant cleanser infused with green tea extract that provides strong antioxidant protection against the environmental stresses associated with ageing while leaving the skin thoroughly clean.
Suitable for all skin types.
Two-in-one cleanser and makeup remover.
Removes waterproof makeup."
It's all true.
I could end this review here, but this blog would then lack any credibility whatsoever, so I'll give you lot a few reasons why I love this product and why you should go and buy it.
I bought this at Duty Free on my way back from Hong Kong. I decided to get the smaller bottle for two reasons. 1) I was literally HKD$4 (about 30p) short of getting the huge bottle and b) I have very picky skin and didn't want to shell out for something that was only going to break me out. Now I don't tend to spend a lot of money on skincare, but this is so, so worth it!
I've been using it for the past 3 weeks which has given me enough time to figure out how it has affected my skin and how effective it is in fulfilling its claims.
This is how it works: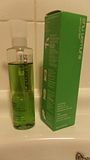 Remove from box. Yes, I said it.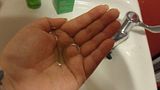 The box says 3-4 pumps, I use one if I'm just wearing day makeup, 2 if I'm in full slap. It's more than enough.
Work it into the skin, massaging over eyes (as if you were gently shampooing your lashes) and down the neck. I'm wearing a tinted moisturiser, concealer and waterproof mascara - see how it melts it away?
Emulsify the oil with damp hands, continue to work the product into the skin.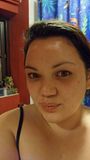 Rinse well with warm water, pat dry with a clean towel.
You're left with soft (NOT greasy), smooth and clean skin. Excuse the red eyes (and stupid facial expressions). It's not easy to wash your face and operate a camera at the same time. Lesson learned.
Occasionally, I'll wash my face afterwards with my Fresh Farmacy, but that's if I have a particularly bad breakout - which seem to be coming less often since I've been using this stuff! I do still have a lot of acne scarring, and a few spots still healing but none on the go at the moment. My skin texture has improved dramatically and I'm finding myself using tinted moisturisers in place of my heavy Colorstay foundation! It has also calmed down my rosacea and any other bumps my face previously had all over it.
It was only in the last couple of years that I was told, and believed that oily skin needed moisture too. If you do everything you can to strip the oils from your skin, it'll go into overdrive and produce even more oil, so feed it moisture and stay matte or even better; dewy! I'm so happy I decided to try this after months of hesitation because let's face it - why would you put oil on you face when it produces enough of it to supply Britain's greasy spoons? But it works. Very, very well.
Oh yeah, it smells gorgeous too.