I'm starting my Mario Badescu skincare regime today! I'm really excited about this. I've had this feeling before about other products. I felt it at the start of my Lush skincare regime and while it worked for a year and a half and still is to some extent, I think I need to try something new. Something with chemicals...mmm...chemicals.
Before: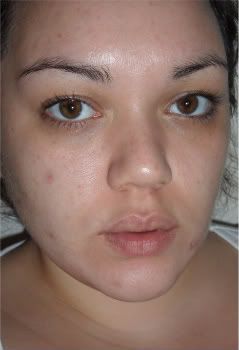 (Fully aware that I look deeply unimpressed about posting ugly pictures of myself on the internet - all about honesty though right?)
Lots of scarring, one or two active spots which are drying up but are most certainly still there. Time of the month is coming up so I'll no doubt have a monster of a breakout around my jawline and on my cheeks. I also have lots of small white bumps under the surface of my skin, mostly around my T-Zone.
What am I aiming for?
I'm not unreasonable nor am I unrealisitc. I don't expect miracles or airbrushed looking skin in 2 weeks. Ideally, I'd like to have my acne under control to the point where I'm only experiencing small hormonal breakouts. I'd like my scarring to fade and for my skin texture to improve so that covering the scarring I do have is much easier. More than anything, I'd like
consistent
skin so I'm not jumping from a heavy foundation to a tinted moisturizer every couple weeks.