The past week has been quite eventful. I celebrated my 23rd birthday at home with my boyfriend and the cats! Bo-ring some may say, but it was perfect for me. I got to speak to my mum and brother for ages over the phone - something I don't get to do very often (as they live in the Philippines and Hong Kong) so I was really happy! It was a quiet yet very joyful day with lots of food, a bit of poker and copious amounts of tea (as I don't drink alcohol).
Here's what I got:
Urban Decay Book of Shadows Vol. III from John. Amazing! It's very, very pretty. I haven't yet had the chance to play with the shadows yet but I'll try get a few looks and swatches posted in the next few days if that's something you're interested in.
Hugo Boss Orange - again from John. I love this perfume! A very modern bottle, this perfume offers sweet scents though not as much the spritz of orange as you'd expect. Very floral with strong vanilla notes. Womanly rather than girly and playful like the adverts suggest.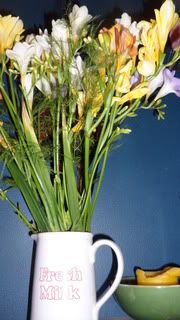 Flowers from my girl down in Cornwall! A really lovely surprise to come home to after work.
Will get a better photo of Nail Effects. I was so excited to break these out I used both!
Barry M Dusky Mauve & Nail Effects. I actually bought these a while ago but promised myself I wouldn't touch them until my birthday due to P5P...and so these are a gift to myself for being so blatantly crap at not spending but making up for it by not using what I buy!
I also received some jewellery, clothes and a bit of cash which I've tucked away in an old biscuit tin for when I finish P5P which is imminent...I've got about 1/4 through the eyeshadow duo and 1/2 way through my UDPP!
This evening (well, yesterday evening now) I was lucky enough to go to an HP and Palm event at Westfield London Shopping Centre. I got to check out all the awesome new laptops and phones and got to have a go on the new ice rink. I'll be blogging about this for work so will post the link up when it's published. My last blog post about the Blog for Sales session is
here
in case you're interested.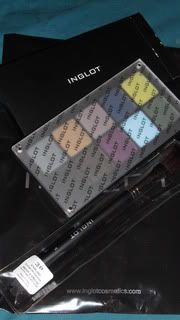 At the event, I gratefully received a
£50 Westfield gift voucher which I swiftly spent in Inglot afterwards. I picked up 10 shadows in the Freedom System and an angled contour brush. I think the concept of the Freedom System is amazing and is an excellent way to customise palettes whether you're a makeup junkie or a makeup artist starting your kit. Inglot offers fantastic quality products at very, very reasonable prices. 10 shadows plus the palette came to
£35! Buy 10 shadows and a palette from MAC and not only get less product (in terms of grams) but pay
£101! I can honestly say, that these shadows meet and some exceed the quality of MAC shadows. For example - Carbon...crap. Inglot's matte black is incredible (see bottom left swatch). A little powdery but amazing pigmentation. It's such a shame that this isn't a brand that is readily available. The store at Westfield is the only one in the UK and as far as I know, you can't order online. I also really love the magnetic palette. It's very strong and I feel confident that it would take a lot for this to break! The only thing I'd change is the frosted lid, though you can roughly see the colours in the palette through it.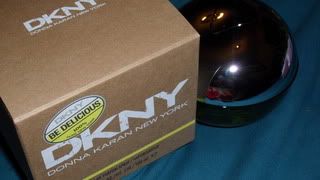 One more thing that I received this week was a 100ml DKNY Be Delicious EDP from Sarah that I very unexpectedly won. I really, really love this fragrance. It's sweet, fruity and long lasting. It's ideal for me.
In between everything, I've had doctors appointments (been having some health problems, blood tests etc...eugh) and puppy sitting weaved in. It's been hectic but I'm glad to have a nice relaxing day tomorrow. Today. Whatever! It's 3am. I'm off to bed!
What are you doing this weekend? Hope it's fabulous!
xx