As per usual, my Sunday was full of things to do. Laundry, dishes, chasing cats out of places they shouldn't be, researching places John and I might like to move to and a little bit of work. I'd intended to sleep in but of course Mimi decided she wanted a cuddle so rubbed her nose all over my face, then nipped my bottom lip. So it's quarter to 2 in the afternoon now and I've long finished the house work and looked at just about every area of South London and still haven't decided on where we want to move to. Now all that's left is to finish my write up on an event I attended for work called Blog for Sales. Very interesting; gave me lots of insight into how much power bloggers really have...and how much money some of them earn!
One more thing I'd intended to do today was place an order with
BeautyBay.com
. I won a voucher a while ago and have been saving up some money in my PayPal account to make a big purchase of Mario Badescu skincare and the RMK cleansing oil (still not violating P5P!) but then found out that they don't accept PayPal! My own stupid fault for not checking. I hope that I haven't lost my voucher! I entered it but didn't complete checkout. We'll see. I'll be placing my order on Wednesday or Thursday instead.
Speaking of wins, I very unexpectedly won
Sarah
's DKNY Be Delicious giveaway! It's my birthday week, perhaps the Gods are sending me luck this year.
Friday and Saturday were both eventful. We headed to
Battersea Dogs & Cats Home
to meet a 12 week old Husky/Lab cross puppy. He was extremely playful and absolutely STUNNING! We then headed out to the depths of the Kent countryside to set off fireworks and start a gigantic bonfire. A women's bike club + fireworks = good times. Always.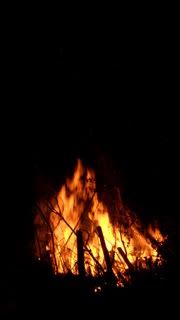 Saturday, John's mum brought the puppy home! He settled in really well and plays nicely with a friend's adult Alsatian! Pup really holds his own too! Because of how big he's going to be and his breed history, he's going to be a working dog as well as a pet and will help John's mum down the allotments. For now, we're all concentrating on getting him well trained - he's very intelligent - and getting the cats used to him!
Cream crackered after lots of playtime!
Saturday evening - more fires and fireworks...and lots of food. All the cuttings from where we were preparing the allotments for winter (as well as lots of scrap wood) went on a huge bonfire. John had fun setting off fireworks and actually managed to get a Catherine Wheel to spin properly! TWICE!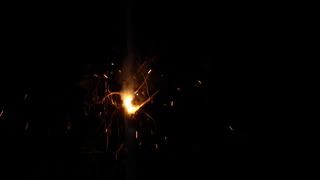 Project 5 Pan is coming along nicely. I managed to finish my Revlon ColorStay foundation yesterday meaning there's just the eyeshadow duo and UDPP left! I predict I will finish these by the end of the month meaning I can still snap up lots of Christmas deals and goodies in the January sales!
I hope everyone had a wonderful weekend and a safe bonfire night!
xx