This is just how I do it. We're living with friends at the moment so our situation is temporary and rather cramped. Hopefully we'll be able to move somewhere permanent soon! But for now, this is how I have to store my collection and think it's a great way to do it if you don't have a lot of room - if you're heading off to university for example. I know how it is! They expect you to cram all your things into a room the size of your bathroom and sleep on a bed the size of your little sister's.
Firstly, all these drawers and boxes are on bookshelves - fantastic space saver. Build up if you can't build out. The rest of it is on a shelf on the wall - another way to maximise the space you have and if done right, can look really pretty! I have a few small paintings I did dotted around the wall in amongst the shelves and I love how it looks!
I have several of these Ikea desk drawers in storage - some are painted/decoupaged, some are not (I'm working on it) - but I could only fit one on my two shelves (it's a bookshelf). I also have a few Ikea storage boxes, these are cardboard and of course self assembled. They're actually pretty sturdy, I've had these for about 4 years!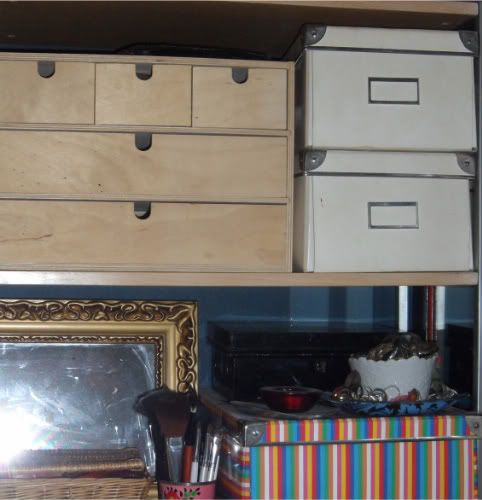 L-R, top to bottom:
1. Lip products & spare applicators. I keep the sponge tip applicators/brushes that come with eyeshadows/blushes etc because they're good for swatching and great for travel if you're only away for a day or two.
2. Blushes and bronzers.
3. Eyeliners and mascaras.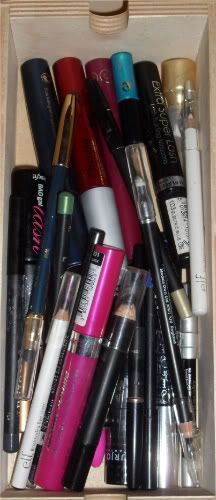 4. Single eyeshadows, pigments, glitters, cream shadows, small palettes and a few MAC pan shadows I have yet to put in palettes. Mostly eye products that don't have a real home live in here for now. I re-used a couple of boxes I got from gift sets of mini shower gels/soaps to create dividers in the drawers.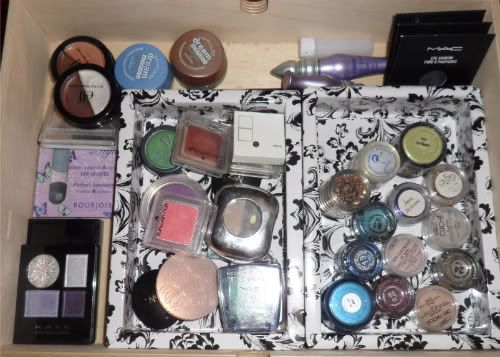 5. Foundations, concealers and face powders
6. MAC palettes, a few random face products - moisturisers, primers, toners etc. Things I don't use on a daily basis.
7. Brushes I don't use on a daily basis are sealed in baggies and put in here. I also keep spare daily brush cleaners and my baby shampoo in here (Simple Baby Shampoo).
8. Basket with hair scrunchies, hair bands and hair clips.
9. Small pot of brushes I use every day.
10. Metal box of jewelry. I also have a couple of necklace stands on top of the shelf not shown.
11. Pot of earrings on top of an glass tray that has rings on it.
12. Larger palettes that I don't use much. There are a few spare body moisturisers in there for when I get through the ones I'm currently using.
The plastic drawers are from Poundland and are very good for storing makeup if you're not concerned about it looking pretty as they're stackable. I've yet to find a way to customise these but I'm sure I'll get round to it. I believe I got the glass jar at TK Maxx for a couple quid in the clearance section.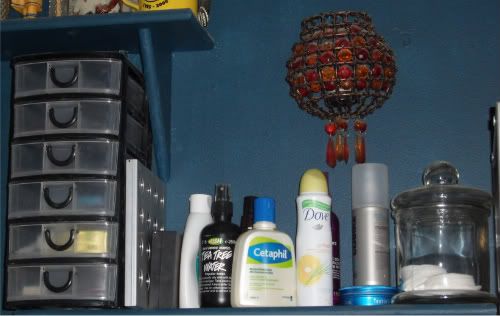 L-R, top to bottom:
1. - 4. Eyeshadow palettes.
5. Samples - skincare, perfume, moisturiser etc. I keep these to use when I travel. You know those perfume samples you get in magazines? I cut them out and keep them for when I'm away from home for a day or two so I don't have to carry a huge bottle. Same goes for moisturisers.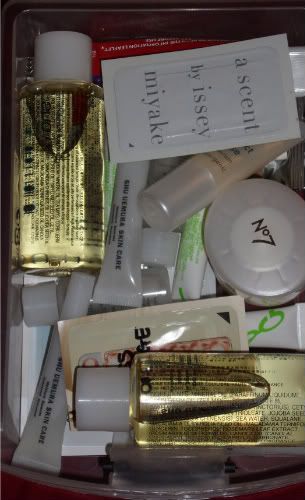 6. Tools. Tweezers (I swear by Tweezerman), eyebrow scissors, sharpeners, and a kabuki brush which I use every day but keep in here because it seems to attract dust like crazy. I also keep spare blotting sheets in here. You'll notice I don't mention lashes or lash curlers - I'm absolutely petrified of anything that goes on my lashes other than mascara.
7. Shelf with products I use every day: Cetaphil moisturisers, Lush Tea Tree Water, e.l.f. daily brush cleaner, Dove deodorant (the Grapefruit and lemongrass one is my favourite and the only one I can use without my pits getting all spotty!), Lee Stafford heat protectant and a Nicky Clark leave in conditioner. I keep my cleansers in the bathroom.
I also keep random other bits and pieces; perfumes, hand sanitizers, cotton buds, "feminine products", nail polish, body lotions etc in a large drawer in our dresser. I like to keep my perfumes out of sunlight because it preserves them. No matter how pretty the bottle is, I'd rather keep the fragrance! You can also do this by storing them in their boxes.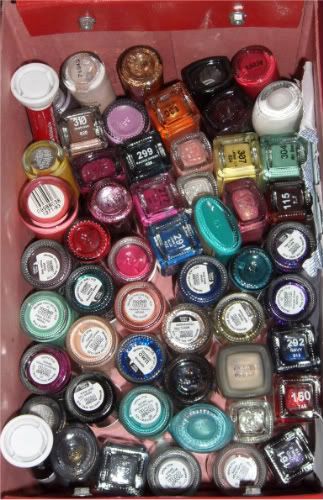 Another Ikea storage box with my nail products and nail polishes. (That isn't a fake MAC polish haha, it's Relic and I believe it's from the 90's - still goes on a dream!)
As you can see, it's all a bit mixed up. I'm hoping I'll be able to have my dream set up when we move to our own place but for now this works for me. I can find things easily and not have to take up half the room with all my "crap" as John puts it. I already take up 3/4 of the wardrobe with my "crap" (because John has like....a Tshirt and 3 socks) so I thought it was only fair not to take up the rest of what little space we have with the rest of my "crap".
I think these Ikea drawers are fantastic for storing makeup and love that you're able to customise them! I don't think they sell them anymore, but they do have some that have a nicer finish and more styles which I plan on buying when we move.
It's also worth thinking about re-using cute packaging you get from gifts.
Don't you love the colour of our wall?! Even though we're living here temporarily, we HAD to paint the room. It was bright pink and purple with a horrible kiddy border! This one wall with the shelves is this gorgeous dark turquoise, the rest is white)