A couple weeks ago I decided to put in an order for a few elf products I've been wanting for a while. I was running low on brush cleaner too so I ordered 2 back ups. Also picked up doubles of a couple things and another eyeshadow quad for a friend who isn't able to get elf where she lives so I thought it might be a nice little gift.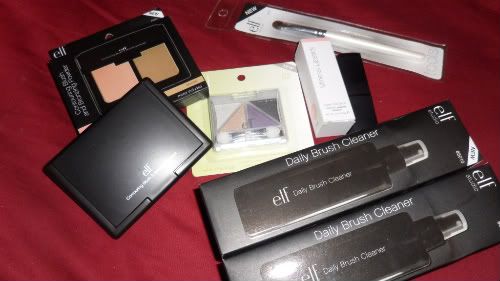 I was pleasantly surprised with the quality of the £1.50 eyeshadow quad I purchased
a few months ago
so decided to pick up another, this time in Rocker. You get a glittery white, a shimmery peach and purple and a glittery black. Pigmentation is decent, great for the price. With these shadows, the glitter actually stays on your lid unlike others *cough* Nars *cough* and though a little chalky, they blend well. I'm a sucker for packaging though...and this doesn't do it for me sadly...but for £1.50...
Another product I've been wanting is their mineral lipstick in Nicely Nude. It's lovely. Goes on smoothly, colour is gorgeous and best of all it's just effortless. I could easily smear this on without a mirror and feel confident that I don't look like a rabid asylum escapee. I did my research before purchasing and knew not to expect a nude like the name suggests. It's a light pink with a mauvey undertone and subtle golden shimmer making it very wearable. It's soft and moisturising but not particularly long lasting. At £3.50 a pop, I'll be picking up a few more shades.
Next, 2 back up daily brush cleaners. The smell is pretty overpowering but it doesn't linger. Does a great job at spot cleaning. Also picked up another eyeshadow brush...for the hell of it!
Lastly the blush/bronzer duo from their studio line. Again, £3.50. This is meant to be a dupe for Nars Orgasm/Laguna duo and whilst I don't have either to compare there are reviews I've read that better compare the blush to Deep Throat. I only have a couple problems with this and neither are major. They're quite powdery and I wouldn't say the bronzer could be used for contouring as it's shimmery...but that's just me!
Have you ever purchased anything from e.l.f? What did you think of it/what are your faves?