I'll make this quick...
The bag I usually carry around is one I've written about before
here
.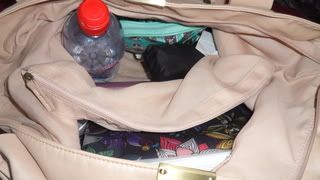 There are a few compartments which is perfect for me as I tend to throw a good 3/4 of my life in my bag just to make my life that much easier...note the sarcasm.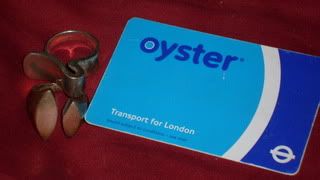 Outside pocket holds my Oyster card, phone (not pictured but it's a crappy old Sony Ericsson) and these two silver rings that I need to have polished. Keeping them there reminds me...sort of.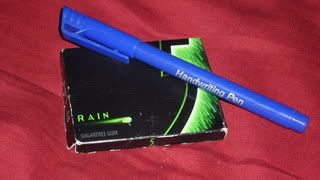 Inner pocket holds a tatty pack of gum and a pen.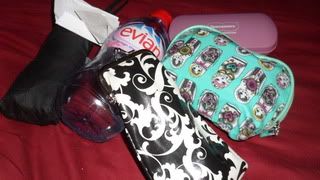 First half carries my umbrella - a must in England, sunglasses - not so much a must in England, my glasses and makeup bag. Also a few random receipts.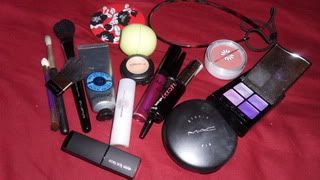 Inside my makeup bag (from Primark - bargain!)
A few brushes: No7 eyeshadow brush - short handle so it's perfectly sized. A sponge tip/brush that came with a Paul & Joe palette, Lancome blush brush that came with (surprise surprise) a blush and a Shu Uemura powder brush - again has a short handle.
Accessories: Little mirror, hairband.
Lips: Natural Collection lipstick in Autumn Sunset - one of my faves. e.l.f. mineral lipstick in Nicely Nude. NYX gloss in Queen of Africa.
Eyes: Chanel liner I'm trying to use up, sample sized Benefit Bad Gal Lash, purple palette I bought from Hong Kong.
Face: MAC Studio Fix, Natural Collection blush (I forget the shade name)and MAC Studio Finish concealer
L'Occitane hand cream - freebie in a magazine.
Next compartment has my wallet (River Island), diary (Paperchase), camera, keys and random bits of paper/receipts.
Zipped compartment in the middle holds tampons, hand sanitizer, heartburn chews (gross) and usually paracetamol/tylenol. I get headaches and migranes a lot. I also usually have a clear nail polish and whatever colour polish I'm wearing that day in case of chips.
So that's it! Pretty boring huh?
What's in your bag?