Like many, I was sceptical of such low priced products and for a long time debated on whether it would be worth it. BUT! I gave in to the hype and placed my first order on
eyeslipsface.co.uk
and was very pleasantly surprised!
First off - shipping. Incredible. Could not ask for more. I placed my order late Thursday night/early hours of Friday morning and received it bright and early Saturday morning. Well, my boyfriend received it bright and early Saturday morning because my lazy ass was still asleep. For free shipping, you really can't complain.
I got a whole heap of goodies from both their studio line which lists the majority of products at £3.50 and their regular line where most products are £1.50. However, in the States they're only a dollar each and I think $3 for their studio line items. If you're placing a large order, it might be worth ordering from the US though I'm not sure they will deliver to UK addresses.
I've had these products for quite a while now to give myself time to have tried them all a few times.
Nails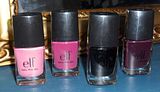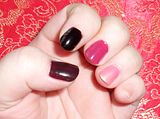 Nail polishes in Coral, Punk Purple , Black and Plum.
£1.50 each
They're decent polishes actually. I would say the standard two coats would give you a nice glossy and even finish. Black...is well...black. I bought it because I wanted to replace my Urban Decay black nail polish, which went all gloopy and disgusting after two months. Plus the packaging sucks - the top kept coming off the plastic screw top thing the brush is attached to. Obviously, I don't recommend UD nail polishes. Plum is a gorgeous colour but is quite a runny consistency so I had to add a third coat. Punk Purple is very cute but unfortunately stains my nails. Lemon juice and a nail brush fixed that but it's making me not want to wear this beautiful colour! My favourite is Coral. It's an adorable bright pink with gold shimmer. It looks just like it does in the bottle. The only problem I have with this is the consistency – this time, too thick. I am able to work with it though, and it's worth it. These polishes are most definitely not chip resistant. They chip within a day or two which is quite disappointing but that is most likely down to the fact that I never wear a top coat.
Lips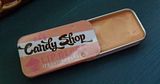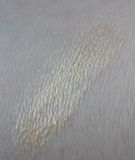 Candy Shop Lip Gloss in Frosting Fanatic
£1.50
I love the smell of this much more than I love the colour. It smells like caramel Baileys! The colour is a bright gold-bronze. It makes my lips looked chapped even though they are not. I'm not the greatest fan. The packaging is adorable though!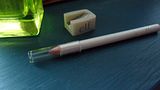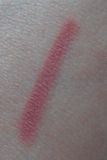 Feather proof-Moisturizing Lip Liner in Natural Blush
£1.50
I like this. I don't love it, but I do like it. It's not very moisturising but the colour is pretty and it compliments my lips beautifully. It holds lipstick to the lips and it is feather proof. It's a nice product and I would repurchase.
Face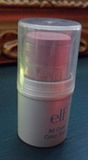 All Over Color Stick in Lilac Petal
£1.50
The colour is very pretty and it does give the skin a lovely dewy look which I'm a major fan of in the summertime. However, in all of England's cold and grey glory...this product worked for me. I've only used it as a blush though I assume the name indicates you can use it on the eyes and lips too. I apply it using my fingers and have had no trouble with blending it nor have I had trouble with it making my oily skin look even oilier.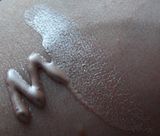 Shimmering Facial Whip in Lilac Petal
£1.50
I purchased this because I wasn't sure whether I would prefer the All Over Color Stick to it. Whilst I do like this product also, I prefer the stick product. This is very thick in consistency and becomes very difficult to blend if you don't work with it quickly so I prefer to use it on smaller areas as a highlight.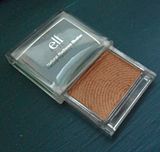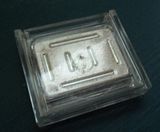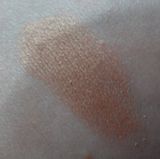 Natural Radiance Blusher in Bronze
£1.50
Highly pigmented but very powdery and very powdery equals very messy. I do like the product though! A light dusting will give you a lovely glow. I'm not a fan of the packaging. I think ELF have got several other products which offer much nicer packaging but with this product the lid slides off and you can see the pan glued to the bottom of the plastic casing.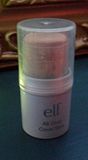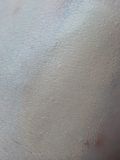 All Over Cover Stick in Apricot Beige
£1.50
I've seen reviews on this and most people hate it as a foundation but love it as a concealer. I can see why, but I've made it work for me by using it like any stick foundation, then spraying some Fix + on my brush before blending and it looks lovely. It offers decent coverage but I wouldn't say this product would offer buildable coverage – you run the risk of it looking cakey and unnatural. It works well as a concealer too but I wouldn't use it to cover blemishes as it has some shimmer in it.
(Studio Line) High Definition Powder
£6
The High Definition powder is not amazing. I would say it's a decent translucent loose powder at best. It didn't do anything to blur out any marks on my skin but I was nice and matte for a good few hours. I applied it by using the puff to roll it across my skin then brushed off the excess with a powder brush. I've also applied it just using a powder brush and I saw no difference. The packaging is nice though and the sifter does what it is supposed to do.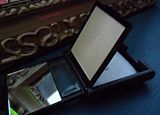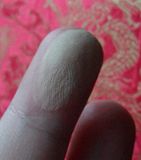 (Studio Line) Pressed Powder in Porcelain
£3.50
A lovely product. I'm not a fan of the puff included but the powder itself is gorgeous. It goes on smooth, lasts a long time and keeps me matte. I will be repurchasing this for sure!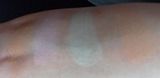 (Studio Line) Corrective Concealer Palette
£3.50
I hate this! The texture is horrible. It's waxy, slides around on my skin and offers little to no coverage. It certainly doesn't correct any discolouration. The idea is that green cancels out redness, and pink cancels out any purple/blue tones under the eye. I have tried so hard to make this work for me because of the raving reviews people have been giving it...but it doesn't. I'd also have included a bigger brush, or none at all.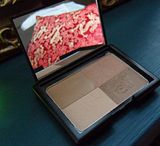 (Studio Line) Golden Bronzer
£3.50
It's a great bronzer. It does have shimmer so I wouldn't use this to contour but it gives the skin a great lift and a beautiful glow. You can sweep your brush across all four shades or pick and choose a shade to highlight/bronze. I love using the lightest shade to highlight my brow bone.
Eyes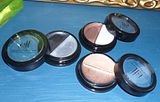 Duo Eye Shadow Cream in Butter Pecan, Black Licorice and Coffee & Cream
£1.50 each
These make fantastic bases and some of the lighter colours are beautiful highlights too – I take a liner brush and apply it just along the bottom of my brows without blending it and it's just lovely. An instant eye lift. As with any cream base, if you apply too much, they will crease!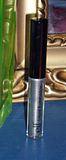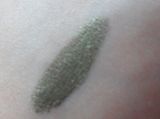 Liquid Eye Shadow in Green Machine
£1.50
Loves it! It. Does. Not. Budge. I apply it, blend it, wait for it to dry with my eyes closed and it stays all night. I've heard of this going flaky on some people but it never has with me. I'll be buying a few more colours to try out!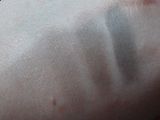 Brightening Eye Color in Brownstone
£1.50
A nice neutral palette great for throwing in your makeup bag. I could easily do a day-to-night look with this with no trouble. It offers a skin toned highlight, a light brown, mid-tone brown and a dark brown. This does a sexy smokey eye.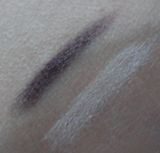 Brightening Eyeliner in Plum
£1.50
It's alright. It's quite a hard pencil and can pull on the delicate skin around your eye but if you warm it up between your fingers first it glides on with no problems and lasts for quite a while.
Eye Widener in Pearl White
£1.50
Again, quite a hard pencil but it stays on the waterline so I'm pleased. I don't often use a white liner but this does make my eyes appear larger and the slight iridescence of it makes the whites of my eyes sparkle.
(Studio Line) Eyebrow Lifter & Filler in Medium
£3.50
Don't like it. I have dark hair and this is far too dark and has a pinkish tint to it which is strange and it looks terrible. I may have been able to work with it if it weren't for the fact that it is far too large (thick) to be an eyebrow pencil. The filler part is thick and creamy but not in a good way. The product literally made my eyebrows stick together and clump so forget a feathery natural brow. I'm sticking to powder and my Shu Uemura brow pencil. The lifter part is meant to highlight your brow bone but it's more like a concealer pencil. I don't have a photo because I swiftly gave it to one of my redheaded pals who actually really loves it. Maybe it's just me!
Brushes
(Studio Line) Angled Foundation Brush
£3.50
I find this too small to be a foundation brush. There's something about the bristles which makes product difficult to blend without streaking. I have used this as a concealer brush when I've needed to cover a larger area and it works very well for that.
(Studio Line) Powder Brush
£3.50
I love it! Love it, love it, love it! I had heard of this being used as a foundation brush, much like the MAC 187. I own this brush as well and the Powder Brush is a lovely substitute and it gives a beautiful finish to your foundation. I've used it with notoriously difficult-to-blend Revlon Color Stay and it still performed. Very pleased.
(Studio Line) Complexion Brush
£3.50
I like this brush. It's soft, fuffy and applies product evenly across my face. I use this on a daily basis now!
(Studio Line) Fan Brush
£3.50
Now I've never owned a fan brush so I thought it would be fun to experiment with one. I've used it to sweep away fall out/fall down and it does a good job of that. I've also used it to apply my contour colour before blending it out and I love it for that. It's much easier to get the shape you want by being able to brush a thin line of product over the hollows of your cheeks.
Smudge Eye Sponge
£1.50
Not as soft as I'd like but it gets the job done! It feels like a smudger you'd get on the end of an eyeliner. Be careful when you wash this as it comes out of the ferrule. It's easy enough to pop back in but still a bit "aw...damn" when you do it.
Eye Shadow Brush
£1.50
I purchased two of these and I do like them. They do a great job of packing colour onto the lids and even a pretty good job of blending them out if I hold them at a slight angle. I'm really pleased with them. I plan on purchasing a few more of these so I can trim them into different shapes! I'd also love to get my hands on the blending brush but ELF are constantly out of stock!
Concealer Brush
£1.50
I'm not sure I would call this a concealer brush. It's too small. Far too small! However, I made it work for me by using it to apply cream shadows or to apply a highlight to the inner corners of my eyes and it works well for that.
Blushing, Bronzing and Blending Brush
£1.50
This brush looks scratchy, feels scratchy and is scratchy. Because of this it picks up far too much product then scrubs it into your skin. Words cannot describe how much I dislike this brush. I now use it to dust off any product from the edges of palettes.
(Studio Line) Kabuki Brush
£5
I would say it's great for its price. Very soft and easily handled. It is not as dense as other Kabuki's I've had, but for £5, very good. I find that if you squeeze the bristles together at the base, it allows you to create fuller coverage. I washed it and didn't notice any shedding which is fab for any brush never mind a kabuki!
Other stuff

Shine Eraser (blot sheets)
£1.50 each
I purchased three of these. They work the same as any other kind of blotting papers. They do work well and leave my skin with a nice texture.
Daily Brush Cleaner
£3.50
This stuff smells great, works really well and already comes in a spray bottle. I'm so over MAC's. No one needs to pay 8 quid for brush cleanser.
When I purchased all these products, ELF was offering a free 27 piece makeup set for any orders over £25.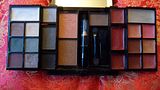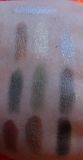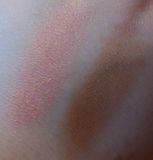 Pigmentation in each of the products is good. I can't believe these are going as freebies! You get 9 shadows and a cream shadow/base, 9 lippies and a clear glitter gloss, blush, bronzer, brow powder, mini black eyeliner and a few applicators.
The shadows are all wearable and blend well. I've not used all the lippies but the ones I have used have impressed me. The blush is gorgeous! It's very much the same colour as the Coral nail polish. Girly pink with gold shimmer. The bronzer as a hint of shimmer too but what I love most of all is whilst it's dark, it's not muddy. The brow powder is my favourite out of anything in the set. I use it every day! The liner...hard but can be worked with. The applicators...on the small side but I rarely use them anyway. You get a tiny blush/bronzer brush, sponge tip applicator and a tiny lip brush.
All in all I'm really very pleased with my purchases and will try and venture out into their mineral line and probably sneakily pick up a few more shades of the products I love the most.