I'm perfectly happy with my skincare at the moment. I use Shu Uemura cleansing oil daily to remove makeup and cleanse my skin, St Ives Apricot Scrub three times a week, Cetaphil moisturiser daily and Lush Fresh Farmacy, Tea Tree Water and Grease Lightning when I have a breakout. It all works fine. BUT...
Because I LOVE the scent of pink grapefruit and I'd run out of my apricot scrub, I decided to pick this up whilst doing my weekly shop. It cost £3 from ASDA. Error.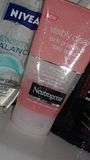 What Neutrogena says:
"Helps eliminate spots and blemishes with a fresh clean feel. An uplifting daily facial scrub for clear, fresh and healthy looking skin everyday. With powerful MicroClear technology and exfoliating micro-beads the formula unclogs pores to clean deeply and help eliminate spots & blemishes. The refreshing scrub gently purifies the skin without over drying, while a wave of pink grapefruit uplifts the senses with a burst of invigorating freshness."
What I think:
I really don't think this does much - if anything it broke me out! I'm not sure if that's because I altered my regime or if this product just sucks but I'm going to blame it on the product because...I can.
The micro beads - if you can call them that - are certainly not powerful nor do they actually exist or do anything to exfoliate. It didn't foam up at all either. It turned into a sticky white gel which I feel is part of the reason why you can't feel the micro beads. It does smell gorgeous at first but after I massaged it into my skin for a couple minutes, all I could smell was a faint chemically scent. Not good. After rinsing my face with warm water, I patted it dry and noticed that my skin just didn't
feel
clean. I put it down to being used to the tight squeaky clean feeling I got from using Fresh Farmacy and moisturised as usual. As if the traumatic experience of washing my face with this stuff wasn't enough...I broke out in painful cystic acne all around my chin and jawline a day after using it. Probably not good for a product that claims to combat acne to actually cause acne...but you know...that's just my opinion.
Fortunately, my boyfriend didn't break out so is willing to use it up (I did sneakily use a bit *cough* a lot to clean my sink the other day) but neither of us will be repurchasing this product. Sort it out Neutrogena!