When I received this in the post this morning - I was really excited. Anything peachy - I love. Out of all my blushes, I'll reach for a peach toned one on a day to day basis. I love the colour on my toes; so summery and mood lifting! Even peach coloured clothing. And peaches themselves.

I've never used a Models Own polish before so I was eager to see what it was like.

It goes on smoothly - the standard two coats will leave a lovely finish. It dries reasonably quickly too. Dry to the touch within one minute and completely dry in 5.
Even on my reasonably pale hands, it looks lovely. Imagine how gorgeous it'd be with a tan!
This is one coat.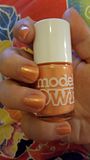 And two.
Beautiful isn't it?
UPDATE: This polish survived a weekend camping trip with no chips (not even the irritating ones in the corners) - it still looks great. Think I'll be making more Models Own purchases in future. Big. Fan. xx
UPDATE II: 4 days on and there are still no chips. Even after cleaning the kitchen and bathroom.