And I bought next to nothing! More because I'm broke as hell than because I couldn't find anything. I'm still proud of myself though.
I got to catch up with a couple old friends Joanna and Alex.
I look like such a creep in this picture. Like...I'm not even meant to be in it. Please excuse my face.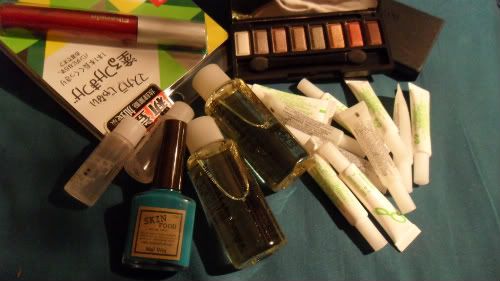 Look at all the goodies Joanna bought for me! I feel like such a jackass because all I got her was a lousy mascara (actually...a great mascara), a nail polish, an eyeshadow palette and single eyeshadow. That's it, our budget was blown! Money really doesn't go as far here. I freaked out and threw in a palette I got for free and headed out the door to meet her feeling terrible. I'll have to pick up a few more things. She bought me an Armani palette, a really cute Skin Food nail polish, a Fiberwig mascara (which I really wanted!) and a ton of Shu Uemura samples!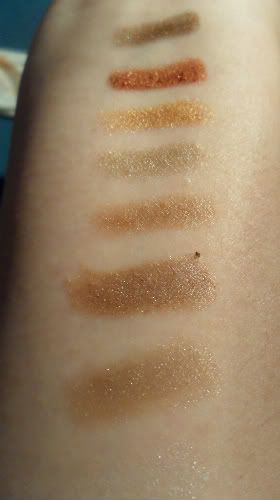 The pigmentation is crazy! Very soft too.
She also got me a few boxes of my favourite treats from Hong Kong. I grew up on these things thinking eating Colon was perfectly acceptable. And it is. Because it's tasty. Especially chocolate colon. Is Collon even pronounced the same as colon? Whatever.
This is all I picked up.
I included the shower cream because it's my favourite. It doesn't mess with my skin, it smells amazing...it smells like happy would smell...if happy had a scent. AND it's cheap. I also picked up an adorable sun dress from Topshop - in the sale of course, one of the Topshop blushes in Nutmeg and a No7 eyeshadow brush using one of my vouchers.
It's a cream formula that sits well on the skin and a beautiful colour. Top swatch is blended, bottom is not.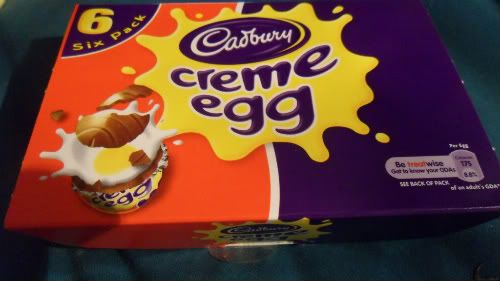 Managed to find more Creme Eggs for Jackie!
Reggie is due for his flea and worming treatments so I had to shell out for those too...probably won't show those though...
Despite the fact that it rained and it was busy and you know...it's Oxford Street...we all had a really good time. The boys talked about games while we shopped, we managed to miss the rain while actually walking around so didn't have to deal with rude tourists - and locals - bashing their umbrellas around. I'm happy! Like the shower cream.