Yesterday,
ASOS.com
had free next day delivery so I purchased a few things. Only one clothing item (a boring pair of black trousers) and a small handful of makeup.
Urban Decay Preen Shadow Box
Comes with your mini UDPP and a mini 24/7 liner.
L-R:
Snatch, Mildew, Flash
Painkiller, Smog, Toasted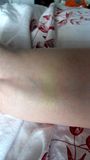 Korres Colour Shimmer Eyeshadow in Golden Green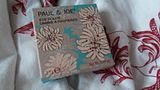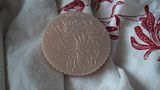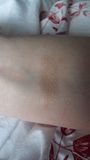 Paul & Joe Eye Colour in Boulevard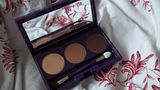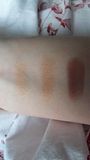 Paul & Joe Limited Edition Palette - Spellbound 002
This is a beautiful palette with shimmery orangey neutrals which I think will really compliment my eyes. I'm really pleased with it!
I'm an absolute sucker for packaging and I love Paul & Joe's, even the boxes they come in which I often pick out of the bin a few times before finally deciding a piece of floral cardboard is best in the recycling than in my drawers. Urban Decay's packaging is amazing too - vibrant and so reflective of the colours in the palette.
I also nipped into town yesterday (for cat food...not makeup) and saw that Superdrug (and Boots) were having a 3 for 2 offer on Rimmel and Maybelline. I picked up Rimmel's Natural Bronzer in 022 Sun Bronze, Exaggerate Waterproof Eye Definer in 26 Noir and their Stay Matte foundation in 103 True Ivory. I've not used Rimmel foundations in a long time so I'm excited to see how this one holds up. The bronzer, I've used before and did like. It's just a nice matte bronzer which doesn't look orange or muddy on my glow-in-the-dark pale skin. I've not tried the liner but by looking at it, it can be compared to MAC's Technakohl liners. It comes with a smudger and a cute little sharpener on the end.
Whilst in Superdrug I picked up Sleek's Sunset palette which is full of gorgeous reds, bronzes, pinks, yellows, a matte black and a blue shadow. It really does remind you of a sunset! I love Sleek shadows - the pigmentation you get for a palette that costs a fiver is mind blowing. They're all beautiful colours too. I also have the Graphite palette which never fails to help me create the perfect smokey eye.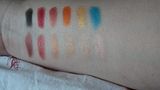 I walked around a little bit and went into Claire's - something I haven't done for a good 6 years. Most of the stuff, I gave a miss. I did spot this adorable ring though.
And a little eyeshadow palette.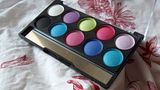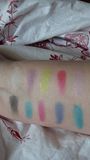 I'd seen lollipop26 and melovemakeup talk about these so I thought I'd give them a try. I'm quite impressed with the colour payoff.
Next stop was Apricot where I picked up a couple of sale items.
A bright yellow off the shoulder slouchy t shirt which I bought because it has such an unusual and strange shape. I tried it on and I'm not 100% sure it works for me but I do like it all the same and it's comfortable. The black studded dress was a must! I'll buy anything studded. I think this would be a great dress for day and night and it's so easy! You don't need to accessorise too much so it would be a fab run home, shower, back out the door kind of outfit. I think it would be adorable dressed down with UGGs and a beanie.
Lastly, Primark. Disposable fashion, yes I know. But some of the stuff is well made and gorgeous! I only purchased a few things.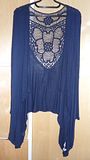 A beautiful dark blue cardigan with lovely detailing at the back which I think would look lush with S/S 2010's nudes and a denim look shirt which I'd probably wear belted with leggings and boots.

I got another pair of jeggings just because they're so easy to throw on with a slouchy tee and run out the door. I also bought some adorable pyjamas - zebra print! But they're in the wash so I couldn't take pictures. I wash all my new clothes before I wear them - does anyone else do this? Excuse me, but I don't want someone's skanky armpit stench rubbing up against my skin! Haha. Plus I hate the smell of new clothes.