I made a promise to myself last year - I'd take at least one photograph every day of my 2011 life and post them weekly - every Sunday. Sometimes they'll be snapshots, sometimes they might be more artsy fartsy - either way it'll give you a little glimpse of my (dull, ordinary but wonderfully full) life!
01/01/2011 - 02/01/2011
1st Jan.
I spent the first 10 minutes of my day (that started at noon) cutting up and wrapping John's face soap - CoalFace from Lush. Spent the rest of the day lounging around in my PJs and enjoying the first day of 2011 with tea and gingerbread! And a Blackadder marathon.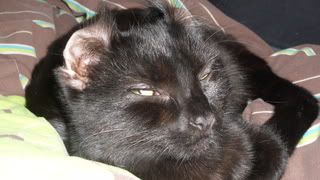 2nd Jan.
Mimi turned both her ears inside out and had us in fits of giggles. Decided it was time to get through the laundry and cook our week's worth of dinners. I cook 10 single portion meals every Sunday and freeze them as I normally don't get home from work until 9 or later so it makes it much easier as I can just shove them in the microwave or oven when I get home. I made Irish stew, turkey & veggie lasagne and fried rice!