So I've been promising I'd do this for a while now. Not only would it be great for people to find out that there's more to Hong Kong than what the tourists know about, but it would be perfect as a reference for me when I go back.
Shopping amongst the locals can be hazardous. Queues mean nothing, pushing and shoving is the norm. Not only have I gotten used to this, I quite enjoy it! I enjoy butting someone out the way to get to that last tube of mascara on the shelf and rudely pointing out that there's a queue for a reason! Sounds harsh, but if you ever visit - trust me you'll understand!
Hong Kong is a haven for cheap clothing and accessories; often quirky and downright strange. It's also an incredible place for makeup and skincare. Beauty is a huge business in Hong Kong and there are an insane amount of businesses cashing in on it. As a result, there is plenty of competition - and lower prices. Yay for us right?
I apologise for the waffling in advance. I'm pretty much going to write this as if I were advising a friend! Also, I didn't take any of my own photos while I was there so all these came from Google Images! Thanks Google!
Before I properly start, at this moment in time, the exchange rate is:
1.00 GBP = 11.9788 HKD
1.00 USD = 7.76750 HKD
This might be useful as a reference.
I'll go ahead and start in Causeway Bay. There's the very well known Jardine's Bazaar - which when I was growing up was where EVERYONE bought their clothes (so we all ended up wearing the same things!) - now, I can't seem to find much there. It's great for accessories and occasionally you can strike up a deal and save a little bit of money but it's become more and more expensive since tourists have found out about it. Here, you can buy clothes - lots of jeans, tops and occasionally some vintage items. Lots of accessories - hair clips, hairbands, rings, bangles - everything. Right next to Jardine's Bazaar is a large pharmacy chain called Watson's. There are several makeup counters here and they sell everything from Maybelline and L'Oreal to Majolica Majorca and smaller Asian brands. Occasionally, mainstream drugstore brands like Maybelline will have Asian diffusion lines but as a general rule: they're sub par. I find prices here don't differ much and are occasionally more expensive. This is another great place to buy skincare products. For the sake of it - because MUFE isn't widely available in the UK - there's a MUFE standalone store in Worldwide Plaza - along with plenty of other makeup/skincare and clothing brands. Not far from here there are a series of underground shopping malls much like Island Beverly, but cheaper. Amongst the clothes shops you'll find small nail salons and salons and even tattoo and piercing stalls (yes, they're safe - but if you want some really good work done go to Ricky and Pinky's in Wanchai). There's also a department store called
Sogo
which sells a lot of Asian brands but also a lot of international ones. The gem I found there was a Mary Quant cosmetics stall! I haven't even seen Mary Quant in my area of London!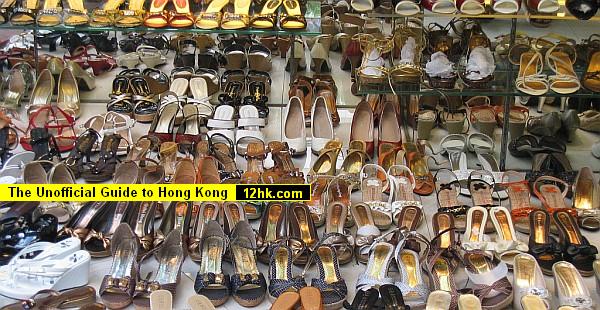 Next, Wanchai. There are a ton of cheap shoe shops here (and one of the main bar/club scenes). While these shoes probably won't last as long - getting even one wear out of a pair of shoes that cost you 20 bucks is good going. Saying that, I have a pair of heels I bought for $30 that I wore near enough every day for 6 months and I still wear them now. They didn't even need re-heeling! All over Hong Kong there are two clothing chains - In & Out and Maple - both sell unbranded clothing and accessories. The quality isn't amazing but you don't pay for it. A top will be around $40, a dress around $80, handbags ranging from $30 to $200+ depending on whether they're real leather or not. These stores are great for picking up on trend items on the cheap! Plus, you feel really good about yourself because they only sell one-size-fits-all items.
In Central, you'll find all the designer stores (and a new Harvey Nicks) - Hong Kong has the highest concentration of designer stores in the world so coming across them will not be an issue. If it's designer bags you're after, my advice would be to head down to the series of "Station" stores dotted around the island. There is one in Central at the bottom of Lan Kwai Fong - a bar/club area (I believe it's Milan Station) - these stores sell second hand designer accessories. When I say second hand, I mean barely used. Women in Hong Kong have such a high turnover of bags, they would think nothing of using a brand new Birkin once or twice, then selling it on for half the price. Also in Central is
IFC mall
- there's a series of "high street" shops and higher end stores here - there's a Zara, Nine West, French Connection etc. Inside IFC mall there's Lane Crawford - a department store - where there are more designer goods and makeup brands. All the big ones - Chanel, Dior, Lancome, Smashbox etc. I'm sure there's a MAC in there too - though MAC standalone stores have popped up all over the place and they're hard to miss now. There are also "The Lanes" in Central which aren't worth it. The items are boring and priced for tourists. There's also a huge H&M but again - prices don't differ much. Another department store is
Wing On
where you'll find Anna Sui and the other big names.
Side note: MAC and designer makeup is not much cheaper in Hong Kong than it is in the UK. I think it's about a quid cheaper to buy a pan shadow (MAC). I would also do the maths and compare prices. If it's something you can get at home for not too much more money - don't waste your luggage space! As a general rule - I don't buy anything in Hong Kong (or anywhere) that I could get at home UNLESS it was much, much cheaper.
In Tsim Sha Tsui (Kowloon side) there's a huge mall called
Harbour City
. Again, there's a Lane Crawford - but there's also a shop called Faces which sells cosmetics and skincare. Most brands are high end - I love the Shiseido girls there. So friendly and very good at what they do.
Moving on, Jordan has a night market on Temple Street. Whilst it's very (very) touristy - you can get some good deals on things like handbags, jewellery and clothes. Great place for picking up gifts.
Mong Kok Ladies Market is similar but runs throughout the day and prices fall slightly and you're much more likely to get away with being a bit cheeky and asking for a discount. If you learn a little bit of Cantonese and have the gift of the gab, you can end up walking away with some right bargains - Little lesson in haggling in Hong Kong - initially, HALVE the amount they're asking for and don't budge until they do. Bring it up by $10 or so and stay there. This is about how much the item would be if sold to a local. If this fails, start walking away - THEY WILL CHASE AFTER YOU and bring the price down. Trust me. By the way - don't bother walking on the pavements/sidewalks. We all walk in the middle of the road - it's not an issue.
Also in Mong Kok are a series of small independent malls full of tiny independent stores. One that stands out in my head is Argyle Centre because
Jackie
took me there. Full of designer seconds for about $200-300, novelty tees, quirky Japanese goods and the occasional makeup store. Not many people will speak fluent English but most will speak enough to help you if you need anything. There used to be a Sephora but it was closed down before I could get to it (boo!) - so instead, head to one of the many
Sasa
, Angel Cosmetics or Bonjour stores. They're not just in Mong Kok but all over Kowloon and HK Island. All three carry a wide range of brands - low end to high. What I love these stores for are sample/travel sized items. Great if you just want to try a product out without having to splash out and buy the full size. They also carry a lot of miniature perfumes which range from 10 bucks to around 40 - so cute and like I said in a previous post, so handy to chuck in your handbag. Many Asian brands are sold here and in my opinion - are the best cosmetics you can find in that price range. Korean and Japanese brands in particular are highly rated in my books. You can also find a range of wallet friendly brushes which considering the prices ($5-20) are incredibly high quality.
One other place that I'll (reluctantly) mention is Stanley Market on the south side of the island. Very, very touristy but if you drop in a sneaky "I grew up here" or "Can I come back and exchange this if it doesn't fit?" - so they think you're a local, again - they'll often give you an instant discount. This place is great for gifts and other touristy knick knacks. Also really good for lunch along the waterfront.
I also found a little diamond of a shop tucked away in Causeway Bay called
Elegant Beauty
. According to the website, there are 4 stores in Hong Kong and Kowloon. They sell high end and spa quality skincare and you can quite often manage to nab a discount as their customers are usually beauty therapists. Brands include Dermalogica, Jurlique, Elemis and Mario Badescu. Well worth checking out.
Sorry for the huge long post! There's so much more to say but there's only so much my brain can handle in one sitting! If anyone is planning on visiting Hong Kong and would like any more information (about anything - transport, hotels etc) - please get in touch! I'd be happy to help! I'm really proud of where I'm from so I'm always eager to talk about it.
(PS: Shops in Hong Kong tend to stay open until around 11pm - drunk shopping IS fun.)