More in depth posts/reviews/swatches coming up!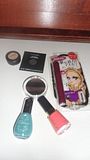 A couple of MAC essentials. Studio Finish concealer (repurchase) + pan shadow in Contrast. MAC in Hong Kong is not much cheaper. The pan shadows are HKD$95 which is around 8 quid compared to 9 in the UK. Asian brands of mascara are always amazing. Also picked up a couple of nail polishes.
Red Earth blush! I thought they went out of business. Found a very small stand at a Sasa in Queensway Plaza.
Maxi dress...complete with padding which I swiftly cut out.
Tank top...love love the print.
Another maxi dress and a couple pairs of leggings.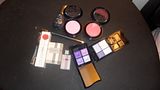 I think I was on the hunt for a good purple shadow and decided that it was all I'd buy...anyways...a Kate palette, another Asian brand that I'm not sure of but thought I'd try out, couple of cheap blushes (doesn't the packaging look familiar?), Lancome liner in Teal, another Elanor nail polish (love them) and a couple mini perfumes.
Night shirt type thing.
Thought this would be good for work since all my other bags are giant.
And some sensible shoes which Jackie really generously bought me!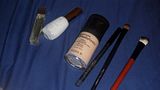 Very excited to try the PhotoReady. Also purchased a couple brushes, grey liner, another Elanor polish and a mini perfume. They're too cute and perfect for throwing in your bag.