In recent months, I seem to have acquired a small handful of Barry M nail polishes so I thought I'd give my opinion on them.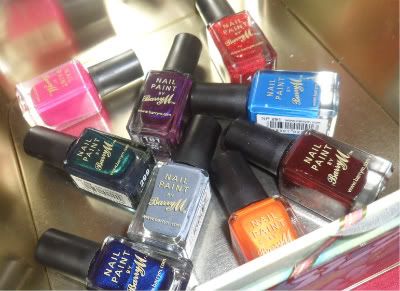 These are the colours pictured:
115 Red Black
I'm not 100% sure about this but I think (because of the numbers) that this may be one of the earlier colours they came out with so it perhaps has a different formulation. This is quite a sheer colour and needs 3-4 coats to be opaque. It's a lovely dark red, maroon/burgundy colour with no shimmer.

136 Tangerine
Shimmery bright orange.

150 Red Glitter
Clear with large flecks of bright red glitter. Great to create gradient nails or as a top coat but also very pretty for that "Ruby Slipper" look. You'll need roughly 5 coats to achieve this and it can be very hard to remove. I recommend using a piece of felt soaked in nail polish remover to get it off.
261 Vivid Purple
Dark purple with shimmer.

272 Shocking Pink
Bright pink with no shimmer.

291 Cobalt Blue
Flat bright blue.

292 Navy
Navy blue with shimmer.

293 Grey
Flat dark grey, no shimmer - my favourite colour!

299 Racing Green
Deep green with shimmer.

Generally, I really enjoy Barry M polishes. They go on well, don't chip within the first two hours of wearing them and there's a huge colour selection. It's all anyone really wants from a nail polish!

Without a top coat - which I never wear - please feel free to recommend a good one, I've yet to find one - these polishes remain chip free for two days, then I'll start seeing the odd chip at the corners of my nails. By day four, I've got to get the nail polish remover out and repaint. I get bored of the same colour after a few days anyway!

With the exception of 115 Red Black which is slightly runnier, all the polishes in my collection have a thicker but not gloopy consistency which means that many times, I can get away with just one coat of polish if I'm in a rush.

I've read other reviews that say Barry M polishes stain their nails but I've never had this problem and I never wear a base coat. I'm rather sloppy with my nails. I don't push or clip my cuticles, I file in a sawing motion and I often peel or scratch my polish off! The one thing I do for my nails is use a lip scrub or a mixture of sugar and honey to exfoliate my cuticles instead of pushing and clipping them...then I apply hand cream. I can NOT be trusted with sharp tools!

I highly recommend these nail polishes. At £2.95 a pop, it's worth grabbing a handful of colours to try out!