As soon as I found out my brother had generously booked tickets for me to go back to Hong Kong, I started planning what I was going to bring with me...then came the worry that I'd be without all my makeup! I like my options. I like being able to wear a different foundation if I feel my skin is looking decent...I like the option of wearing a bright colour on my lids to cheer myself up. Basically...I like to surround myself with all my crap.
I decided on 3 palettes – Paul & Joe Spellbound (shimmery neutrals), e.l.f. 15 piece (for the variety and brow powder) and a MAC Devoted Poppy palette for a few colours and my favourite highlight colour – Young Thing. I now realise I managed to chuck in a couple more Shu shadows and a Ruby & Millie one too. Sneaky. I also packed my Colorstay foundation, an e.l.f. pencil concealer, Diorshow mascara, e.l.f. face powder, a couple of MAC MSFs, a black Chanel liner that's almost finished and a handful of essential brushes. I wasn't too fussed about lip products – just a Stila lipstick in Denise and my lip balm. Then there's my cleanser, toner and moisturiser, a heat protectant and a handful of jewelry.
Clothing wasn't difficult. A handful of maxi dresses, a couple of cardigans, 3 tank tops, 3 pairs of leggings and a couple of dressier tops. SHOES were my problem. I ended up putting my foot down (ha…) and shoving in a pair of sandals, flip flops and plain black ballet flats in my case 5 minutes before leaving for the airport.
I've packed surprisingly light. If I didn't have to bring over the 3 boxes of Jaffa Cakes for my brother and other gifts for my family, I'd have only needed the one small (cabin luggage sized) suitcase! I figured I'd be buying more clothes and makeup out here so I wasn't in full panic mode…but I could very easily survive for 2 months on the items I brought with me purely because I can mix and match the clothes and I can get enough out of the makeup I've got.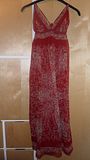 Reggie thought he'd come with me…




I'm heading off to the Philippines on the 28th!