Looking at the products laid out in front of me, I've not been buying a great deal over the past few months. It felt like I had but a lot of what I purchased were replacement products. I've also been investing more in clothes after havihttp://www.blogger.com/img/blank.gifng a mad eBay clear out. I bought the most lovely Nicole Farhi silk top (I used it as a fabric background in
this post
) which I think I'll wear to death this summer. Also picked up a handful of maxi dresses which I tend to live in during the "warmer" months - whatever that means in the UK . Mostly, I've been saving. Mostly...
A few bits from Space NK. I haven't tried the new cleanser yet, I'm finishing up my Mario Badescu products (which I'll be honest, are not amazing. Stand out products are the buffering lotion and whitening mask. I didn't like the moisturiser at all and the cleansers were alright but quite drying)I also picked up a Nars blush in Deep Throat, Sheer Glow foundation and Shu Uemura Nobara foundation. Both are great and give good coverage while remaining light on the skin. Sheer Glow's coverage really surprised me! If I need to build it up, I use a Beauty Blender sponge (another I-love product) to stipple it on. Perfect.
A handful of things to try from BeautyBay.com. I'm excited about adding a toner to my skincare routine again. I haven't used a toner since Lush's Tea Tree Water and miss the squeaky clean feeling you get afterwards.
After scouring blogs and eBay, I'm 1 (Oh So Special - I didn't include the new Curacao palette as I just bought that today) palette away from completing my Sleek collection. If interested, I'll do a large review/swatch catalogue of all the Sleek palettes past and present.
I broke my nail polish ban and went a little nuts...the two Illamasqua nail polishes were STUNNING and I bought two of each to send to a couple of my friends. Perfect for a vampy night out. The Barry M colours are beautiful summer brights - the coral is by far my favourite. Seche Vite is hands down, amazing. Ah-may-zing. My nail colour lasts a good week without any major chips despite me working with my hands a lot.
I bought a few Soap & Glory products, one of which was the boddy butter seen and the other was a facial scrub and shower gel. LOVE the shower gel, LOVE the body butter, a little unsure about the scrub. It kind of burns my skin when it's meant to give a tingly sensation. The boy loves it so as far as I'm concerned he can have it! I'm giving one of these body butters away soon :)
Check out the adorable mini High Beam and Posie Tints free with Glamour magazine! Didn't get Benetint as I've got the full size, but aw, so cute!
I purchased (IMPULSE) a couple of MAC shadows - Vellum and Beauty Marked. Beauty Marked really stands out to me, it's dark but really brightens up the eyes. Vellum is a fab highlighter on the cheeks and cupids bow.
I'm also giving away a couple of Lord & Berry glosses that I bought a while back. I loved it so much I went back and picked up two. The perfect shade for any skintone, lovely texture and I actually like the smell of them. They're not MAC vanilla scented, but they're not plastic/playdough scented either! The lipstick I am less crazy about (weird considering I'm not much of a gloss girl) The New CID products, I've yet to try out yet but I'm excited about them. I've dangerously fallen in love with Illamasqua eyeshadows. They're dense, apply very well and stay vibrant until you take them off. I recently bought this matte purple called Fallen.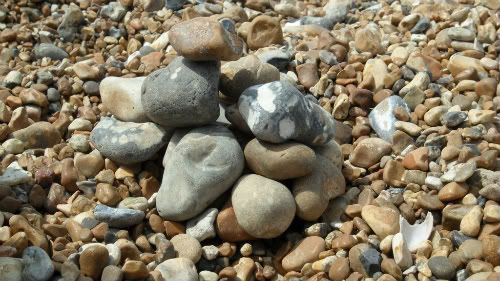 Recently, the fella and I went down to Brighton for a couple of days. We stayed in a beautiful hotel by the beach front and whilst pebble beaches aren't my favourite, I had a wonderful time. While having breakfast on the beach, we had a little debate on whether pebble or sand beaches are better. My argument was that you could build sandcastles on sand beaches...so John made a stone castle which he said was "more realistic" so better. I'd still rather get sand up my butt any day. Pebble beaches hurt right?!
I made some divine (if I may say so myself) lavender and lavender and lemon cupcakes (with my own recipe for lemon curd). So light you don't feel too guilty for eating more than one!
I've got reviews planned: MUFE HD foundation, Mario Badescu (the week-by-week thing didn't work out because honestly...I wasn't getting the results I'd hoped for but there are some great produts within the range) and a new foundation routine. I'm hoping to start pre-writing posts during the weekend as I'm so busy during the week. Though lately my weekends have been pretty crazy too! We'll see...but I miss blogging a lot! Thanks so much for reading!