This afternoon, I got home from work in a foul mood. It was raining, some crazy woman kissed her teeth because I'd had the nerve to say "don't worry it's not like I need my spine" when her umbrella poked me in the back and she'd failed to even make a half-assed apology....and I'd stepped in a dog turd wearing new shoes...BUT...I walked through the door and ripped open a neat little package from my first ever swap buddy! Stoked. Seriously. This woman knows me and what I like.
She bought me some beautiful things, and things I'd never choose for myself. I don't think I'd ever pick out neon nail colours for myself because I'm so pale...you know what? They work. I'm IN LOVE with the matte bright purple. It looks gorgeous matte and glossy with a top coat.
Tried the bright red lip (again, something I'd never choose for myself) and I love it! Wet n Wild lippies have a great texture. I'm not sure how well they wear but they apply well and easily straight from the bullet. Got a couple of back ups of some Wet n Wild single shadows which I'm so pleased about because one in particular (Nutty) - is nearing pan territory. M - thank you SO much for everything, it was the sweetest thing and a wonderful surprise to come home to. I can't wait to send you a few things and to set up another swap! It's time huh?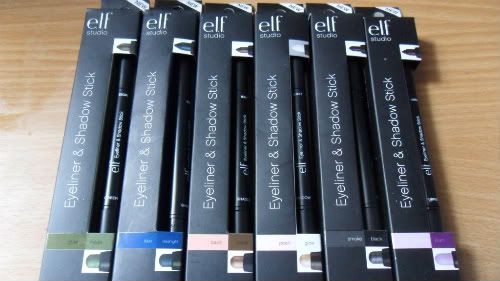 I'm also back with a small giveaway. Recently e.l.f. had an offer on their Studio Eyeliner & Shadow sticks so I snapped up two of each and I'm giving the other set away. They're great on-the-go products and have excellent staying power. If you're in it to win it, just comment (say anything other then I WANNA WIN) and the winner will be chosen at random on Saturday 25th June 11.59PM GMT+1.
I hope everyone is enjoying the start to their Summers/Winters. We've had nothing but rain and the possibility of rain. When the sun comes out, it rains 3 minutes later and sh*ts all over all chance of tanning/hanging your laundry out/GOING ANYWHERE! But it's London...and I love it. Mostly.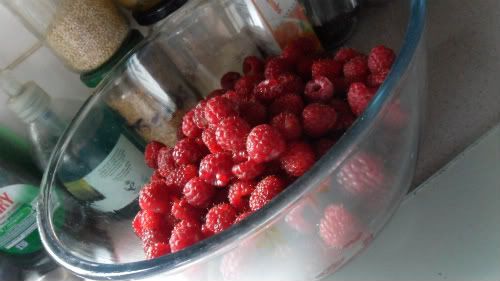 Plus, the messed up weather meant we got a buttload of fruit early this year! Yummy, home grown raspberrys. Incredible.
Remember the cute, tiny little kitten we got? Well...she's still tiny...but she's a cheeky little bugger. She's taken to jumping in my bag before I leave for work.
In a load of bee hive frames. Don't worry, we didn't leave her in there. Plus she jumped in on her own when we were stacking them.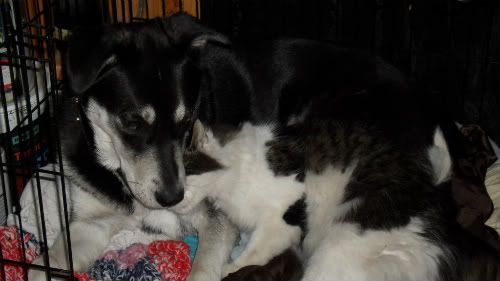 All cuddles........
....no....I'm totes not trying to eat the cat...