Quite a while ago, I ordered a few brushes from e.l.f. I'd been using a number of their regular range and Studio Line brushes for just over a year and thought that they were good quality for their price point. Seeing the new Bamboo Brushes and knowing how soft and lovely my Studio Complexion Brush was, I ordered the Powder Brush. Having a thing for angled brushes, I chose the Angled Blush Brush as well. I noticed the Studio Stipple Brush was still in stock so quickly popped one of those into my basket and paid up.
These brushes are all an absolute pleasure and a dream to use. All soft, all pick up and deposit the perfect amount of product and all easy to clean, economic and best of all - each brush is produced using man made fibres (Taklon). The Bamboo Brushes are made of recycled materials too.
The Powder Brush is large, fluffy and perfect for applying loose powder quickly and evenly. I use it for pressed powder as well. The brush is also fantastic for blending out and diffusing colour when I get too blush-happy.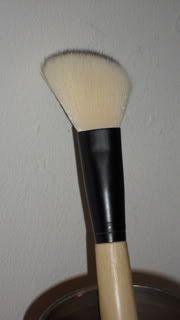 The Angled Blush Brush is beautiful and I love me a multi-purpose product or brush. It's perfectly sized to use as a blush brush, tilt it slightly to use with a highlighter or lay on its side to contour with bronzer.
The Studio Stipple Brush is not as dense as many duo-fibre brushes I've used but it's a nice size unless you plan to use it for foundation. I like my foundation brushes to be big (I use a MAC 189, e.l.f. Studio Powder Brush or my fingers) so this one wouldn't quite cut it. Though I did try it once and found it gave a nice finish. I love this brush for cream or gel blushes.
Each brush sits well in the hand and is comfortable to use whilst looking stylish and above their price range. I would highly recommend the Bamboo range!
Have you used any e.l.f. brushes? What are your thoughts? Any winners I'm missing out on?
I hope you're all well, I hope to be back and posting more often from now on!