I picked up a few NYX bargains, not much but enough to make me fall in love with the products and want to explore the brand a bit more. I'd really love to try out NYX lipsticks. Anyone up for a swap?!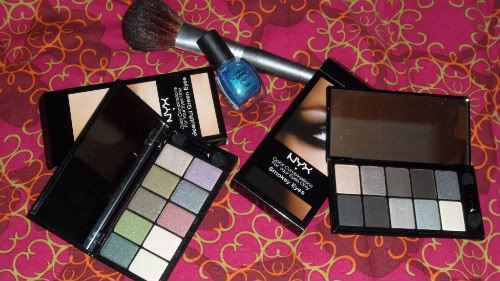 I bought:
For Your Eyes Only Palette in Beautiful Green Eyes
For Your Eyes Only Palette in Smokey Eyes
Super Powder Brush
and Nail Polish in South Sea
The palettes are much smaller than I imagined. I don't mind, it's just something I noticed when I first opened the package. Pigmentation is great upon swatching but I'll see how they wear and post a review at a later date. Colours are beautiful and well chosen for each palette. I've got a bit of an obsession with eyeshadow palettes and think these are fantastic additions to my collection.
The brush is large and fluffy, not especially soft but not painfully scratchy. Will have to see how it holds up in terms of shedding when in use and washing.
The nail polish is an impulse buy as I don't have a colour similar to it in my collection. I'm quite disappointed to be honest. I know it's only a cheapie but I've paid far less for a polish and this one is so sheer it requires a good 4-5 coats to get a nice finish. I resorted to wearing it over a navy blue cream polish and thought it looked lovely.
Any review requests, send them my way!